It's good to find time to write on my blog again! Eid is the perfect time to relax enjoy a cup of forest fruits tea, click on the style channel and start typing away. I know, I know... I'm a bad blogger! But trust me, I had good reason to be away for a while.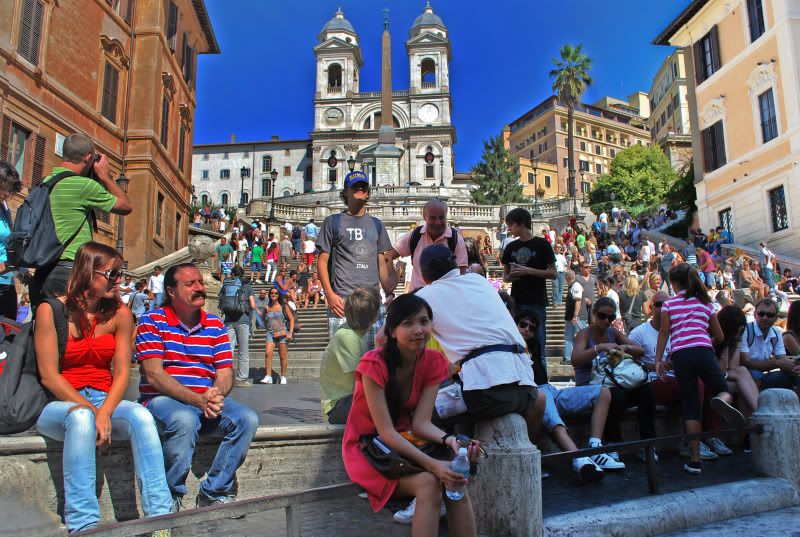 I went on a trip to Roma with Steve - it was my very first trip to Europe and I fell in love with it instantly! Every morning we'd have breakfast at different coffee bars around Via Nazionale where we stayed. There, it's a way of life - you get your cafe at the bar, shoot it, then WALK (or hop on your scooter/Fiat 500) to work with a cornetto in hand.
And OMG Fashion was amazing! Soon as we got there I felt underdressed. People were wearing designer everything and they always looked brand new (or so it seemed).
The only thing I regret the most about this trip is that I never had the time to go out there and do some really crazy shopping. There was darn so much people on the streets, in the shops, everywhere! I mean, you could barely go to a famous place and not fall in line for at least an hour. And there are so many sites to see but then we always had to wait in line which practically ate up all the time we had there. You really have to set aside a whole trip just dedicated to looking around shops. It was fun, though. I learned a lot!
TOP TIPS WHEN IN ROME
Take pictures. Lots and lots and lots of pictures. Bring a tripod if you're travelling alone. Get all the memories (and face angles) captured because you don't know when or if you will come back to this wonderful place.


When it comes to food, go for restaurants off the tourist track because they tend to be overpriced and not really all that good, well, for Italian standards. Try a tavola calda like I Molisani in Piazza Fiume. A lot of locals eat there for lunch and they've got a pretty wide selection of antipasti, primo piatti and segundo piati.


Hydrate yourself. You will do a lot of walking so make sure you drink enough water to prevent you from fainting. There are a lot of water fountains around the city and you can actually DRINK from them! Cool CLEAN natural spring water trickle down from the mountains through the ancient aqueducts and out of these fountains so they're better than any bottled water you'd find anywhere else.
If you see this one don't bend over, twist your neck and drink directly from the spout. Cover the spout up with your finger and this will cause the water to stream out of the small hole on top of the pipe as if it were a regular drinking fountain!


It would be good if you knew someone who actually lives there or someone who speaks Italian. Did you know that they give different prices for locals and tourists for the same items? So make sure you do your research to avoid getting ripped off.


Look through the keyhole in Priorato di Malta's tall green doors in Piazza dei Cavalieri di Malta. You'd be surprised what you see inside.


When going to the Vatican Museum, it's best to go extra early because a ridiculous amount of people cue up like there's a Mac item debut/Star Wars convention sans the Darth Vader helmets. If you're not really that much of an early riser, join tour groups. They have a separate (express) entrance and you don't have to waste your time falling in line.


Wear comfortable shoes - and I don't mean your most comfortable stilettos. The city is paved with cobblestones and very hilly so you don't want to be struggling to find your footing. I wore soft sole Minnetonkas and flip flops the whole time and my feet still hurt!




At the Trevi Fountain: NEVER accept at all costs flowers from anyone who hands them to you as they will pester you for money afterwards! IGNORE.

TAKE IT ALL IN. Enjoy the scenery, enjoy the food, people watch. Let the Eternal City inspire you.
--
On a side note:
Steve took me out for a very special romatic dinner one night where he
unveiled
the Trevi Fountain to me. It was magnificent. All of a sudden he took a little box from his jacket pocket and popped the question!!! So here it is. I'M ENGAGED!!!
Lots of planning to do - where do I start?